Welcome to Howl Press
Howl Press provides high quality books to the hotel and cruise line industry. The stories are well written, there are a diverse number of voices and stories in our Collections and we work hand-in-hand with you to offer a more tangible, more endearing amenity for your guests.
Featured Publication: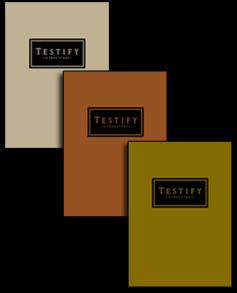 TESTIFY
Our premier line offers thought provoking, engaging, topical and light hearted non-fiction stories. These are first run pieces written by award-winning writers and your guests.
Learn More
Additional Publications:

The Second Collection
In this Collection guests will enjoy stories, poetry and stunning black and white photographs.
Learn More
Your rooms are well appointed,
the linens fresh
and your guest's cup is
filled with the finest coffee.
you have attended to
every detail.

Guests have chosen this place
(your place)
to shed their problems,
put aside their troubles and
fall
softly
here,
right here.

You provide an easy silence for
your guests
to relax,
renew and now,
reflect…

Children's Collection
For guests with young children we offer a children's line of books.
Learn More